Not the greatest picture, but I took this one of Ally right as she was taking her last steroid. The last time she will swallow these three little pills called prednisone. (well at least for this part of her life!)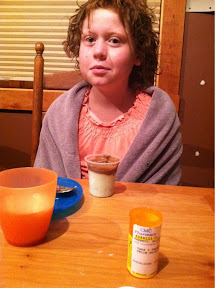 Of all the drugs she has taken, this one takes the cake for the drug I hate the most. All the horrible side effects...over and over and over again. It steals her ability to sleep (and have sleep-overs!). It steals my silly little girl and makes her go into a bit of haze for a week out of every month. It makes her crave weird foods and makes my kitchen open for business non-stop 24 hours a day. It makes her head hurt. It makes her belly hurt. It makes her cheeks look like a chipmunk.
NO LONGER.

Jerad was walking the pill container over and getting ready to throw it in the trash can. I said "WAIT!!! I want to run over it with my car" Really. I do. The love-hate relationship that I have with a silly material item like a drug. It saved my daughter. I will never forget Dr B telling me that he could put half his kids into remission just with the steroid. It did save her. Thus you can see the love hate.....
And we now have 12 more days of waking her up at night to give her the chemo. After that....she will get to sleep. The whole night. Without disturbance. 12 more days.
All of these things seems little. But they all add up. I just finished telling her teacher and some of the administrators at her school: I am hoping for a very normal school year. I just want her to be a typical 4th grader. But I know....I know normal will never exist exactly like it used to. But I would like to give it a shot!

That also means there are 12 days left before the first annual Curesearch Walk for Childhood Cancer. We will spend the last day of chemo walking for her and all of the other little ones battling a disease that is bigger than all of them. Thanks to all who have signed up. Here are the details:

Registration at 8:30 (hopefully all of you will preregister at link below!)

Walk and opening ceremony at 9:30
Eastwood Park
1385 Harshman Road
Dayton OH 45431

And I am now begging...begging...if you haven't signed up yet, and plan to walk, please do so here. It is not too late! (A lot of people told me they were walking, but are not showing up on our list)
Thank you all, as always, for getting us this far and getting us through this last little bit.
Ally's Army will continue to do good things.


My mind can't quite get around it all yet. I am still pretending it is very far off in the distance.
It is:
Huge. Amazing. Monumental. Scary.